Some thoughts on Cancel Culture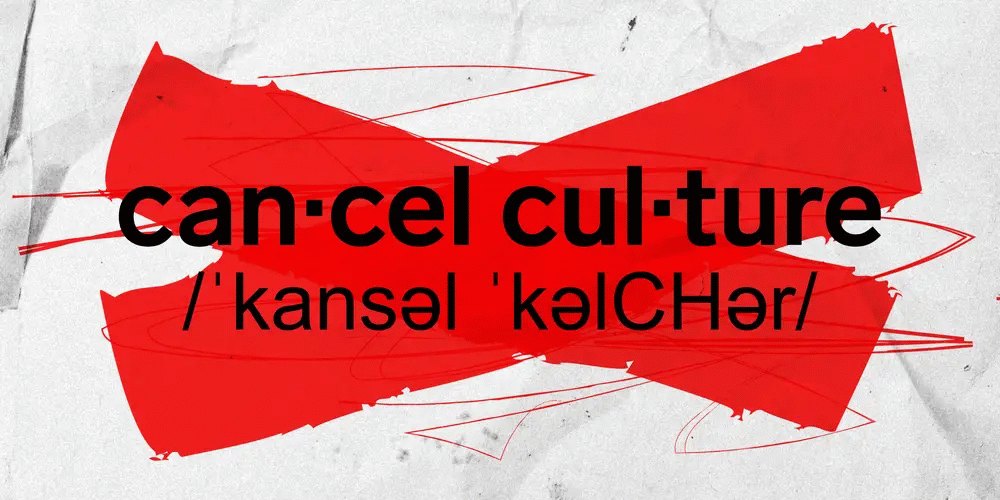 It's been a brutal year and more now-well, in reality, the first time since World War II that people in western countries have been challenged by the prospect of a painful death, food shortages, and the collapse of social order. Of course, for most people in other countries, that is this the majority of people on the planet, COVID-19 really more of the same: the prospect of death due to another disease, another famine, and social anarchy.
Whether or not there is a cause-effect relationship between the emergence of what I think is a virulent strain of virtue signalling and cancel culture on the broad left is impossible to prove, but the number of examples of it arising may well have something to do with being stuck at home and turning inwards, exaggerating a sense of victimization and marginalisation. It appears that a result of this has been the reduction of public space for the discussion or even argument over ideas (and people) considered beyond the pale, despite the increased virtual space that we have. It has certainly affected some of my own political activity, but it's also creeping around the edges of my research and academic work.
Why? Part of the reason for this cancel culture on the left has been the influence of ideas around what is known as Critical Race Theory, and "Intersectionality", ideas that have been around for several decades but have come to the fore via the Black Lives Matter Movement, developments in radical feminism and LGBTI identity politics and other social movements in the US, translated into Australia. As well as this, the concepts of "whiteness" and "racialization" and "colonization" and "anti-imperialism" have been used to argue that whiteness—seen as a privileged status overwhelmingly shared by white people particularly in settler societies like the US, Israel, or Australia, blinds them to their oppressive roles in overarching systems of oppression. This results in an "interlocking matrix of oppression" in society.
These ideas have been largely confined to academic debate in the past in particular fields (law, social theory, critical theory), but have come to influence thinking in social movements, particularly where academics play a leading role. Of course, some of the insight is incredibly important to gain an understanding of systems of racism and oppression. For example, in Bangladesh where my work has been focussed for over 6 years now, rural village women are oppressed not just because they are women in a patriarchal, traditional environment, but because they are poor, they are denied land and legal rights, they are denied resources (health, education), and they suffer cruel violence when things go wrong. They live under an "interlocking matrix of oppression".
However, a crude political extension of has been into identity politics in western countries: and the avoidance of perceived offence due to someone or some group's claimed or judged oppressed status appears to have become a political principle. This is that here should be solidarity between oppressed groups with particular identities even if widely separated by geography, because they share the common cause of liberation, anti-imperialism, anti-racism and so on. Asking difficult political questions about the rightness of those relationships, or that there may be problems with blanket support means you are committing a form of aggression and solidarity betrayal. Actions or statements that appear to breach that solidarity are to be avoided. When there is competition between members of an oppressed group then the most radical stance appears to be the winner. What is not acceptable should be cancelled out.
A key problem with all of this is who is to make the decision as to what is acceptable or not? How do we choose which oppressions deserve the highest form of censure, that is, no contact or dialogue of all? Is whiteness and race analysis an adequate way of understanding oppression (what if in a mixed society, your oppressor is black?)
This silencing of course is in opposition to democratic ideals about the public sphere, particularly as written about by Jurgen Habermas, the German intellectual who grew up under Nazism, over many decades: the ideal that there should be a public space where there is a contest of ideas and each hears the other out. This should particularly apply to to the progressive movement.
Now, in the past few days, I've been thinking about my own work and finding a way of explaining the difficulty of holding to high ideas for social change and the grounded reality in working in a strongly patriarchal and unequal society like Bangladesh, which is as difficult as anything on the planet. It is all-too-easy to take an ideological hard line, and demand everything, and regard compromise as failure. In considering the problem, I came across an interview with Peter Singer, the Melbourne-born philosopher in a recent New Yorker (25 April 2021). Singer has actually spoken to an AJDS function in the past.
But I've actually never read much Singer, except for his essays on why giving to charity (that is, for example, that development organisations, is a good thing). I know he's been attacked for his views on euthanasia and disability (which resulted in cancel culture in Germany towards him). In the New Yorker article, it is said that Singer "calls himself a consequentialist: he believes that actions should be judged by their consequences" . When you start to look at his work in more detail and that of other commentators it the philosophical arguments become overwhelming , but it ties in with another of Singer's concerns, and that is "effective altruism", "How can we, individually and collectively, do the most good?"
I think the principle that "that actions should be judged by their consequences" needs to be applied to the disturbing aspects of cancel culture as I have experienced in the past year or more. Here is what I see as the problem when analysed through Singer's lens.
What's the consequence of non-cooperation with people who have considerable political clout because you don't agree with their stance on other things? The consequence is that you lose the opportunity to make some difference, or do some good, however marginal that might appear to you.
What's the consequence of judging people on the basis of what you perceive to be their identity or lack thereof? The consequence is that you make wrong or illogical assessments of people and begin to think and act in a bigoted fashion.
What's the consequence of not wanting to admit people you don't agree with into the discussion space? The consequence is that you exclude many people who for any number of reasons, invalid as they may seem to you at that moment.